Dicing Saws and Machines for Scribing and Breaking, depending on the field of application.
ADT 71XX
ADT 7120 / 7130 family of 2" and 4" spindle dicing systems deliver a high level of affordability and flexibility.
The 7120 / 7130 Dicing System is for a variety of applications such as: Ceramic Substrates & Capacitors; Glass; Automotive Sensors; PZT; Glass on Silicon; LED & LED on PCB Packages; Package Singulation (BGA, QFN); Opto-electronic Components; SAW Filters; Sensors & MEMS; LTCC; IC Wafers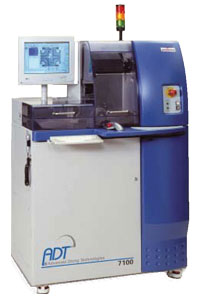 ADT 79XX
It's a dual spindle system model, that doubles the productivity while maintaining the same current production floor space. This kind of Duo system provides a perfect solution for applications that require a long cut cycle time such as image sensors and saw devices.
Leading applications: Silicon wafers / discrete devices; Silicon carbide (SiC); MEMS; SAW devices; Glass wafer; Packaging (QFN, LED…)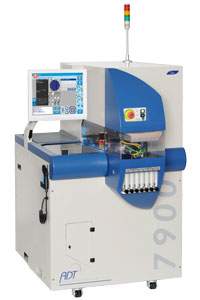 ADT 72XX
The 7200 models deliver substantially higher productivity compared to existing dicing systems, while minimizing the cost of operation. They offer a wide range of advanced automation and process monitoring options.
Applications: Silicon; Glass on Silicon; MEMS; GaAs wafers; Package Singulation (BGA & QFN); LTCC; PCB; Hard Materials
The 7200 Series is offered in three configurations optimized for IC applications, package singulation or hard material applications.
ADT 8020
The ADT 8020 Dicing Saw has two facing spindles that can simultaneously dice wafers at high throughput. It's a high accuracy system that can dice workpieces of up to 8-inch in diameter, at high performances and low cost of operation.
The 8020 operates with the ADT intuitive New graphic User Interface (NUI) and includes two touch-screens.
Applications: Silicon wafers / discrete devices; Silicon carbide (SiC); MEMS; SAW devices; Glass wafer; Packaging (QFN, LED…)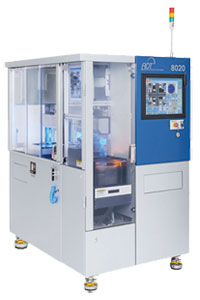 ADT 8030
The ADT 8030 is the brand new version of Dicing Saws.
It has high power spindles.
Flexibility which means for hub and hubless blades up to 3″ OD.
Supports up to 12″ x 12″ square products.
Fast and simple blade change.
Automatic kerf inspection.
Packaging (BGA, QFN, FOWLP, FOPLP)